Today, MyHealthTeams raised $3.36 MM in our Series A round of financing.  Our small team has made incredible progress in the past two years and now it's time to expand.  Today we have three fast-growing social networks that are making a huge positive impact in the lives of people facing multiple sclerosis, breast cancer and autism (more below).  Five years from now, if you're diagnosed with a chronic condition (like 1 in 2 Americans are today), our hope is that your doctor, or another person with the same condition, will tell you about a MyHealthTeams social network. (We plan to launch about 100 of them.)  The proceeds from our Series A will help us expand our team and accelerate the rate at which we launch new social networks right away.
The Series A was led by the Westly Group, a fantastic group of VC's on Sand Hill Road with a track record of investing in growth companies that tackle the world's most pressing problems.  Adams Street Partners, who led our $1.75MM seed round back in the summer of 2012, also participated in the Series A as did many of our other seed-round investors including 500 Startups, HealthTechCapital, Sand Hill Angels, TEEC, and several notable individual investors.   Gary Dillabough from the Westly Group will be joining Mike Lynn, M.D. of Adams Street, and myself on our Board of Directors, with two more board directors to be named.
Our Mission and Our Accomplishments
We've accomplished quite a bit in the past two years, and it has all been based on one simple mission.  We believe that if you're diagnosed with a chronic condition or disease, it should be easy to find the best people around to help you.  Ask anyone facing a chronic condition and they will tell you it is anything but "easy".  They will say that most health websites don't actually help them connect with and learn from others who have "been in their shoes", and that they feel like they are "re-inventing the wheel".  To solve that problem, we build social networks for specific chronic conditions that look a lot more like Facebook, Yelp and Quora, than they do your typical health website.   The results have been reflected in our viral growth and high engagement.
We started in June of 2011 with the launch of MyAutismTeam – a wonderfully supportive social network for parents of kids with autism.  We launched with just 35 parents in California, but today have more than 52,000 registered parents from all across North America.   User engagement was strong from the very beginning and nearly half of all interactions take place on a mobile device.  We were embraced by Autism Speaks, Easter Seals, the US Autism & Aspergers Society, and TACA amongst other great foundations, and even had our 4 minutes of fame on the Today Show back in April.   Ever since then, we have been bombarded with requests to launch MyHealthTeams networks for a wide range of chronic conditions and diseases.  We built a platform to enable us to launch new social networks for both the web and mobile quickly and in a scalable way.
We then launched two more social networks;  MyBCTeam –  designed specifically for women diagnosed with breast cancer, and MyMSTeam (our most recent and fastest growing network) –  for people diagnosed with multiple sclerosis.  Whereas the typical editorially-driven health web site and condition discussion-forums have relatively low engagement, user engagement on the three MyHealthTeams social networks has been exceptionally strong.  The percentage of registered members on MyMSTeam and MyBCTeam who are monthly active users is north of 50%!  This tells us know we are filling an important role in the day-to-day lives of people facing these chronic conditions.
Our Business Model
When it comes to making money and keeping all our social networks free for our users we have two important rules.  First, we will only seek out opportunities that will empower our users (we would never sell their personally identifying information, nor would we ever spam them with irrelevant ads).  Second, we must be able to be completely transparent with our users.   If we follow those two simple rules, we believe that our revenue models will become one more reason why people join our social networks.    For instance, 85% of MyMSTeam members who responded to our recent survey told us that they would like greater access to clinical trials and that they'd like us to notify them of clinical trials that are relevant to them.   We went looking and found that most pharma companies struggle when it comes to recruiting patients for clinical trials – a problem which only slows down the process of bringing new therapies to our users.
So we partnered with them.
Again, we will never share our members' personally identifying information with anyone.   In December we signed a partnership with a leader in the MS space whereby they tell us the specific inclusion criteria for their upcoming clinical trial, and we then notify the members in our network who might actually benefit from this trial.  It's then totally up to our users to determine if they want to learn more about the trial and if they want to contact the folks conducting it.   This is a process that should take a couple of weeks rather than the 6-12 months typical of clinical trial recruitment.  People dealing with actual chronic conditions like multiple sclerosis, breast cancer, autism, Crohn's Diease, Lupus, Diabetes and so many others, should have much greater access to clinical trials and we can help make that happen.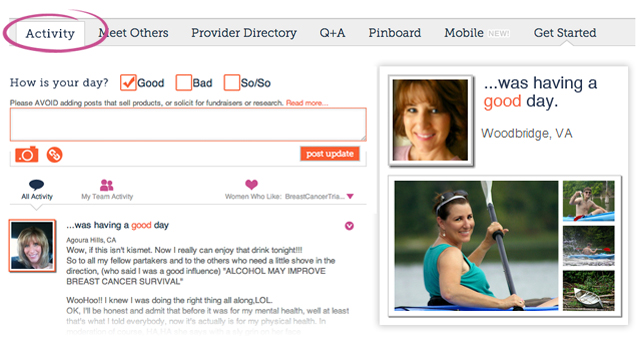 In the next 18 months companies like MyHealthTeams will help people with chronic conditions have a much greater voice in the way therapies are developed, clinical trials are designed and conducted, and new therapies are brought to market and explained to them.   Down the road, as we grow and users share their experiences and wisdom, we are seeing a number of opportunities to leverage that data to help describe likely treatment paths and predict outcomes so that our users can improve their lives.  We are convinced that our social networks can not only help improve patient health outcomes, but also lower health care costs.
We have a lot of work ahead of us to achieve these goals, but count ourselves lucky to be working on something so important and fulfilling.
-Eric
https://www.myhealthteams.com/wp-content/uploads/2014/02/Blog_Thumb_MHT.jpg
77
77
Eric Peacock
https://www.myhealthteams.com/wp-content/uploads/2015/01/MHT_Logo_Main1.png
Eric Peacock
2014-02-12 23:12:27
2018-09-14 15:24:23
MyHealthTeams Raises $3.36 MM to Accelerate Growth of Social Networks for Chronic Disease Communities